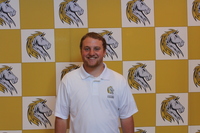 Justin Whittaker
Director of Baseball Operations
Justin is entering his fifth season as member of the Saugerties Stallion's front office and third as Director of Baseball Operations. Currently Justin serves as the Head Equipment Manager/WJAC Supervisor at Choate Rosemary Hall, a private high school in Wallingford, Connecticut. Whittaker received a Bachelor's of Science in Business Administration and a MBA at The College of Saint Rose in Albany, New York.

His responsibilities include but not limited to: oversight of all Stallion social media platforms, Saugerties Stallion's website, and other duties as assigned. His game day operation duties include: oversight of the game day press box staff, on-field entertainment, special promotions, and general operational tasks.

During his four years at Saint Rose Justin has held many leadership positions at the school which has given him critical thinking and management skills. He served as President of the Student Association for two consecutive years overseeing 40 student clubs/organizations with the help of six directors who worked under him. For the past three years Justin has served as the Baseball Operations Manager for the St. Rose baseball team. In this capacity he coordinates the travel and hotel accommodations for the various away games throughout the season. He was an integral part in the spring training trip the team took to Winter Park, Florida for the 2013/2014 spring breaks. In his current role he assists the Athletic Department is various operational tasks during contests for all division II teams.

Whittaker was a graduate of Saugerties High School class of 2012 as a two sport athlete playing Football and Baseball. Justin was a member of the 2011 Varsity Baseball team that won the MHAL Championship, Section IX Championship, Class A Championship, and finished 3rd in the State Tournament. Additionally, he was a member of the 2008 and 2009 Babe Ruth State Championship teams.

Justin resides in Wallingford, Connecticut.