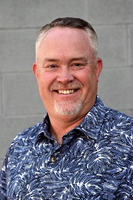 Rob Vanderbeck
PA Announcer
Rob is in his fourth year as the Stallions PA man. Prior to that he has "lived" in the booth at Cantine field as the PA guy for the Saugerties Sawyers, The Saugerties American Legion Post 72 and Section 9 and Regional High School Baseball Playoffs. He has also been on the mic for his sons SUNY Polytech baseball broadcasts in 2019.
After almost dropping out of college countless times to go to Radio School, Rob finally ended up in Radio in 1999 in Sales. He does commercial voice work and has been an on air talent on Z-93 in the past as Rock Harris. His current paid gig is as the SVP of Sales for iHeartMedia for the Hudson Valley and Tri-State New Jersey Markets.
Coolest part of PA Work: Getting to announce my sons in High School, American Legion and College at SUNY Polytech and Noah was a Stallion for part of the 2017 season.
"There is no better seat ANYWHERE than getting to sit in my booth and announce great local baseball from High School through the Stallions. I also enjoy working with our booth interns and watching where their futures take them. It's an honor and a privilege to get to do what I do at Cantine."