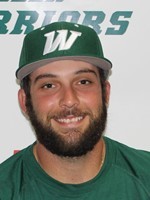 Matt Saliba
Assistant Coach
Matt Saliba is in his first season as a coach at Webber. His duties consist of coaching first base and working with hitters and infielders.

Prior to this season, Saliba coached in the Florida Collegiate League in Auburndale, Florida, as an assistant coach.

Before coaching, Saliba played at Winter Haven High School for four years where he was the Polk County Player of the Year his senior year. Salba helped his team advance to the regional finals his junior and senior years.

After high school, Saliba attended Daytona State College for two seasons, where he played second base. Saliba then earned a scholarship to Valdosta State University, where he played his junior year.

For his senior season in 2017, Saliba decided to "come back home" to play at Webber, where he helped lead the Warriors to the first regional bid (NAIA National Championship) in school history. Saliba was awarded a National Gold Glove (ABCA/Rawlings-NAIA Baseball Gold Glove) at second base during his one season as a Warrior.

"I am excited to transition into coaching at Webber," said Saliba.

Saliba is from Wnter Haven, Florida, and currently lives in Lake Wales, Florida.