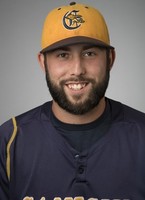 Kyle Hunter
Pitching Coach
Kyle Hunter enters this second season with the Golden Griffins baseball team as an graduate assistant coach, primarily working with the pitching staff.

Prior to Canisius, Hunter was a four-year starting pitcher for Bloomsburg University where he was named the PSAC Freshman of the Year in 2011 while also being named to the PSAC East All-Second Team. Hunter finished the season throwing 37 innings with a 3.10 ERA (0.97 ERA in Conference).

The Leighton, Pa., native has experience as a Video Coordinator for the Atlanta Braves minor league affiliate in the Gulf Coast League (GCL) as well as volunteer coach with Bloomsburg and Leighton High School, respectively. Hunter also spent time as a video scout with Baseball Information Solutions based out of Coplay, Pa.

Hunter earned his Bachelor's degree in Exercise Science from Bloomsburg in 2014 and is completing his Master's Degree in Sports Administration from the College.