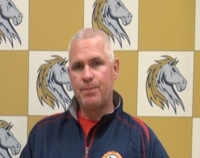 Steven Freer
Pitching Coach
Steven Freer will be entering his first season as Pitching Coach for the Saugerties Stallions this spring. Coach Freer is returning to his hometown of Saugerties, NY, where he grew up playing both basketball and baseball. "I am truly honored and grateful to become part of the Saugerties Stallions organization and to serve as their Pitching Coach. Saugerties is elite when it comes to the game of baseball," Freer said. "Growing up here, I was playing baseball at the beautiful Cantine Field- morning, noon and night. Baseball was and still is a huge part of my life. I am looking forward to working with the Head Coach, Tom Whitaker, and his talented staff." Freer is also honored and grateful to the Stallions Owner, Kevin Hinchey and General Manager, Scott Wickham, for giving him this amazing opportunity.
The 50 year old Freer comes to the Stallions from coaching at the NJCAA baseball level. Freer served as Pitching Coach for 4 years and Head Coach for another 4 years. While as a pitching coach, Freer helped the team go all the way to the NJCAA College World Series under then Head Coach, Dennis Sheehan. Coach Freer has always considered Sheehan to be his mentor. "I learned a lot from Dennis and I am very thankful for everything Coach Sheehan has taught me and done for me athletically, personally and professionally," Freer states. Locally, Steve is also a member of the Mid-Hudson Tigers baseball organization, serving as a board member and head coach for his son, Steven's 14U team. In addition, he has coached the game at all levels and in 2016 took his 13 year old Babe Ruth team to the NY State championship final game. "I love the game like no other!" he exclaimed.
Coach Freer played both basketball and baseball for his hometown, Saugerties Sawyers. He was a 4 year starter for the SHS varsity basketball team and is the all time leading scorer with 1,435 points. He also played 3 years on the varsity baseball team, helping his team win 3 MHAL titles and a Class B State Championship in his senior year of 1985. He was voted the 1985 Class B Championship MVP, 1st team All State pitcher and 1985 Player of the Year by the Poughkeepsie Journal, The Middletown Record and The Kingston Daily Freeman. He then went on to play for Rockland County Community College for the '86-'87 season. There, he earned First Team All Region XV as a pitcher and thus received a full baseball scholarship to St. John's University, playing for then Head Coach, Joe Russo. Freer was a key member of the SJU 1988 Big East Champion team, posting a 6-2 record in the Big East. A shoulder injury late in his junior year ended all aspirations of moving on to the next level.
Steve Freer knows that growing up in Saugerties and watching the great athletes before him are largely responsible for why he loves and is still involved in the game today. "Saugerties is a baseball town. Period.," Freer affirms.
Coach Freer resides in Kingston, NY with his wife, Kelly, two children; Courtney and Steven, son in law, Chris and his granddaughter Cecelia.